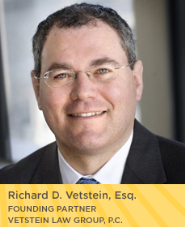 When you have a legal problem, you want solutions, not disclaimers and hedges. You want an attorney who treats you like the only client at the firm. You want personal attention, responsiveness, and your calls returned. Right now, if not sooner. If you are in the middle of a real estate transaction, you want the comfort of knowing that you have an attorney who knows the "in's and out's" of the law, and can get to the closing table, despite any problem that arises. If you need to fight for your rights or defend yourself in court, you want a litigator who's not afraid of a street fight. And above all, you want a law firm that delivers all this with value. At the Vetstein Law Group, P.C. we appreciate these values and provide the highest level of legal work at a reasonable cost with unique brand of personal attention and responsiveness. It doesn't seem like much to ask, but our clients tell us it can be hard to find.
The Vetstein Law Group, P.C. solves legal problems for individuals, small businesses, real estate owners and developers, condominiums, banks and financial institutions. Our practice areas include:
Richard D. Vetstein, Esq., is a nationally recognized real estate attorney and litigator. A dedicated advocate for property rights, Attorney Vetstein was lead counsel in the successful federal and state legal challenge to the Massachusetts Covid-19 Eviction Moratorium. Rich was also instrumental in the passage of the Act Clearing Title to Foreclosed Properties, and has testified at the State House in support of the Rent Escrow Bill and many other rental housing legislative initiatives. Rich's legal analysis has been quoted in the Boston Globe, Banker & Tradesman, Wall Street Journal, Bloomberg News, and Massachusetts Lawyers Weekly. Rich has also received several peer rated recognitions including Thompson West's "Super Lawyer" designation (2022), Boston Magazine's Top Lawyers (2021, 2022), Metrowest Boston's Best of the Best Lawyers, and Inman News' 100 Most Influential in Real Estate. Mr. Vetstein is the former Co-Chair of the Boston Bar Association's Title & Conveyancing Committee. Attorney Vetstein has handled several high-profile real estate cases including a multi-jurisdictional fraud action which led to the indictment of a criminal syndicate in one of the largest real estate forgery schemes in Massachusetts history.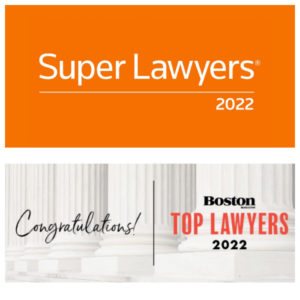 Mr. Vetstein is also principal author of the most popular real estate legal blog in the country, The Massachusetts Real Estate Law Blog. The Blog has won several awards including the American Bar Association Top Legal Blawg, Expert Institute, and Boston Magazine's Top 5 Real Estate Blogs.
If you are interested in scheduling a consultation, please contact us at

[email protected]

or 508-620-5352.