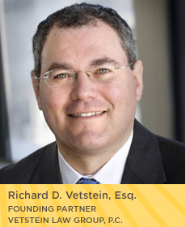 When you have a legal problem, you want solutions, not disclaimers and hedges. You want an attorney who treats you like the only client at the firm. You want personal attention, responsiveness, and your calls returned. Right now, if not sooner. If you are in the middle of a real estate transaction, you want the comfort of knowing that you have an attorney who knows the "ins and outs" of the law, and can get to the finish line, despite any problem that arises. If you need to fight for your rights or defend yourself in court, you want a litigator who's not afraid of a street fight. And above all, you want a law firm that delivers all this with value. At The Vetstein Law Group, P.C. we appreciate these needs and provide the highest level of legal work at a reasonable cost with unique brand of personal attention and responsiveness. It doesn't seem like much to ask, but our clients tell us it can be hard to find.
The Vetstein Law Group, P.C. solves legal problems for individuals, small businesses, real estate owners and developers, condominiums, banks and financial institutions. Our practice areas include:
The Firm's founder, Richard D. Vetstein, Esq., is a nationally recognized real estate and business attorney. He has been quoted or featured in the Wall Street Journal's SmartMoney.com,  Bloomberg News, New York Times, Los Angeles Times, Associated Press, Boston Globe, Realty Times, NuWire Investor, the American Bar Association Journal, Lawyers Weekly USA, and Massachusetts Lawyers Weekly. Mr. Vetstein was recently selected as one of Inman News' 100 Most Influential in Real Estate. He is also the Co-Chair of the Boston Bar Association's Title & Conveyancing Committee. Rich recently testified at the State House in support of the Rent Escrow Bill.
For the latest in real estate legal news, read our award-winning blog, The Massachusetts Real Estate Law Blog which was just selected as an American Bar Association Top Legal Blog for two consecutive years and in Boston Magazine's Top 5 Real Estate Blogs.
If you are interested in scheduling a consultation, please contact us at info@vetsteinlawgroup.com or 508-620-5352.